We only have a short time in Kakadu this trip. So far the highlight has been the 1 hour flight over the escarpment, Jim Jim Falls and Twin Falls, which we did at lunch time yesterday.

We are now at Mardugal campground. It is hot, but cooling down. It was over 37 degrees a little earlier, now down to around 35, but is a mere 31.7 in the van. The guys have been trying to have a sleep. I think Eric is still asleep (he parked his car in the shade - our caravan is in the sun to get sunlight on the solar panel) but Ron has given up.

I have a few photos to post - not sure what they look like as it is a bit glary in the van - we have all the windows and most of the curtains open to catch whatever breeze there is, so not easy to see the photos on the screen. The flight was a bit bumpy, and at times it was rather hard to hold the camera still, so some of the photos have movement in them. I hope I have chosen ones without movement, but I can't be sure. Anyway, here's hoping.

First up, some photos of the flight. We flew south along the escarpment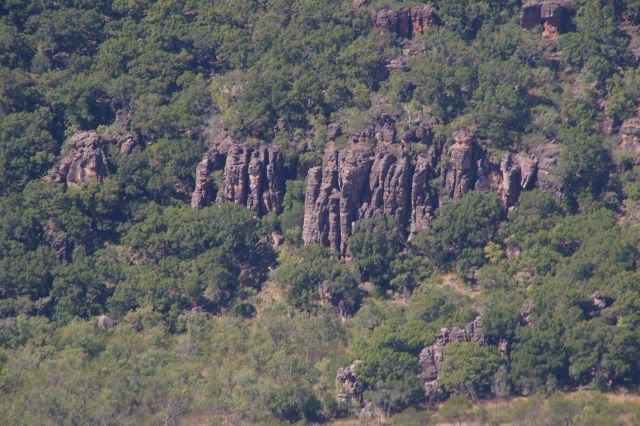 As you can see, Jim Jim Falls still had water in them.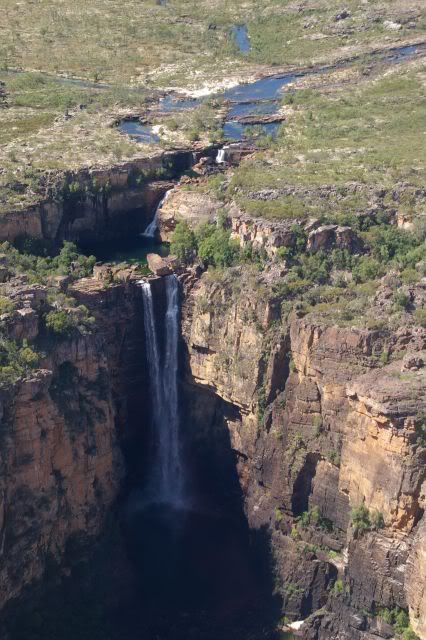 A couple of photos of Twin Falls from different angles. That beach looks so empty - it was wall to wall people when we were there, and we could hardly find a place to sit down to have lunch.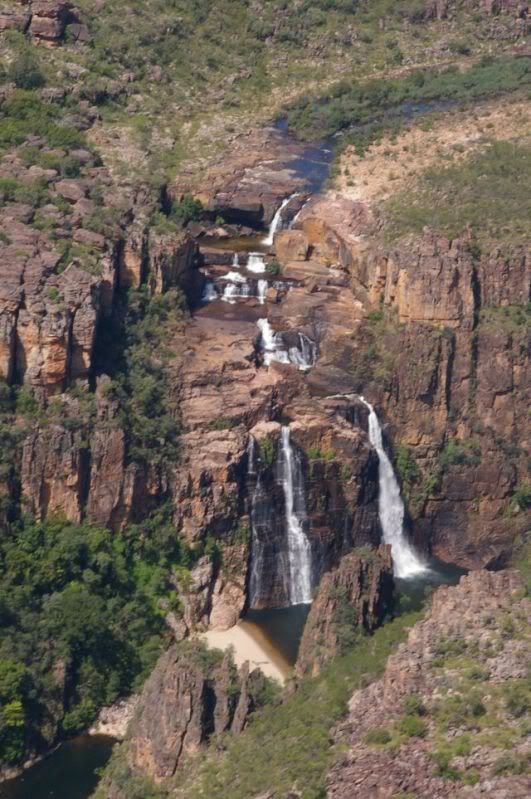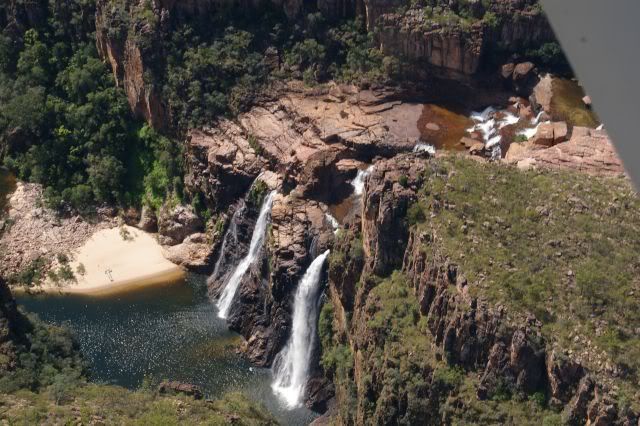 After the flight we drove up to Cahill's Crossing. This is looking down river, but the water is flowing upstream as the river is tidal.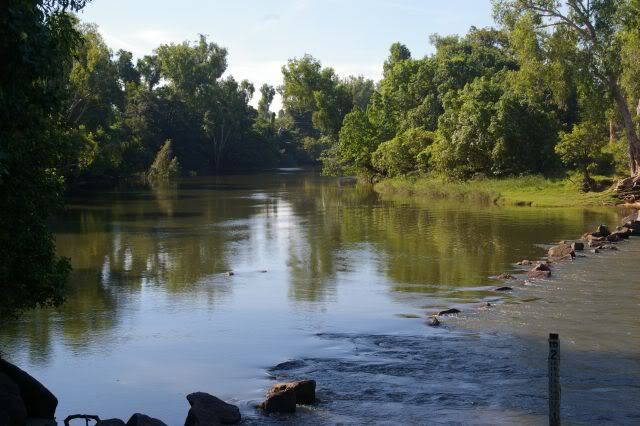 And then, after lunch did the Bardejilidji walk. These formations are sandstone.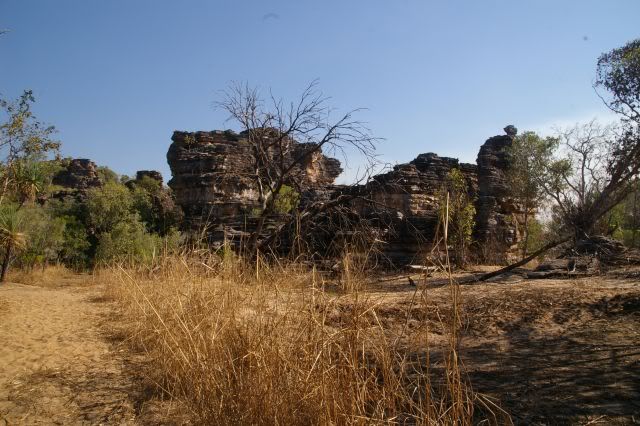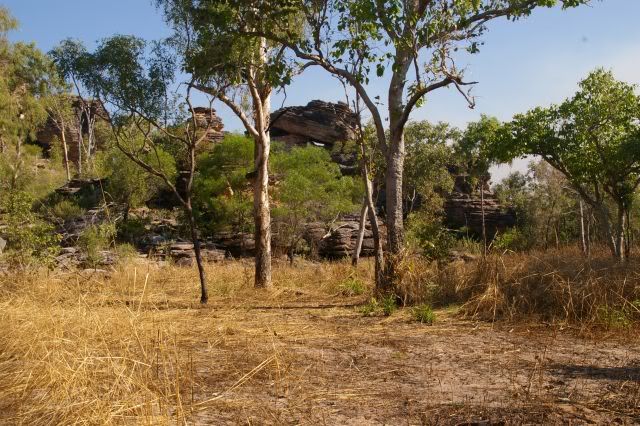 And ended the day at Ubirr for the sunset. Unfortunately there was too much smoke from fires, which obscured the clouds, so the sunset wasn't as good as we hoped.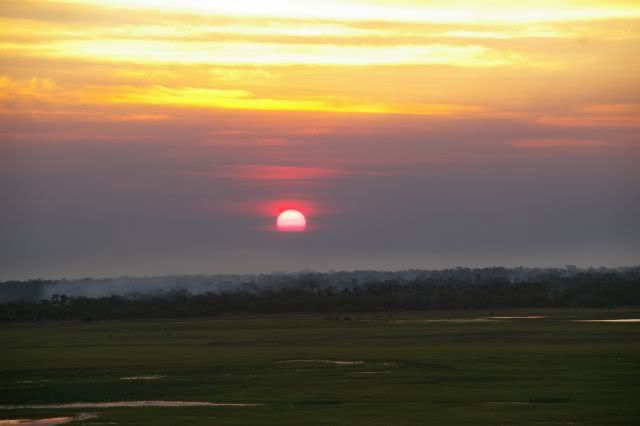 On our way to Mardugal this morning we called in at Nourlangie Rock to do the art walk and lookout walk there, then went on to Nawurlandja Lookout - a bit steeper than the other lookout - which gives a beaut view of Nourlangie and Anbangbang Billabong. Unfortuately the Billabong is still closed - it is a lovely walk. The road into Jim Jim and Twin Falls is also still closed.

We have one night here, to be close to Yellowwater, as Eric is doing the dawn cruise. We did it last time - had planned to do it again, until we learned it now costs $95! So, been there, done that, don't need to spend that much money to do it again. Tomorrow we move down to Gunlom Falls for a couple of nights before leaving Kakadu.

We have been fortunate. We had thought originally that because of our departure delays we would miss out on seeing Jim Jim flowing, but it is still going strong. On the other hand, a few of the places we have been to or are about to go to would have been closed had we left at the original planned time. We met some folk at Mataranka who had just come down from Kakadu, and they said there were still a lot of mozzies around. We have seen two, though Eric said he gets them in his canopy, and has had to sleep with the windows closed. They say it has become cooler - well, up to now it has been quite pleasant, but it sure is hot here today. However, I have a feeling Gunlom may be cooler. I'm surprised at how relatively few people there are here - I was expecting full campgrounds, but although it is filling up here, now, the caravan park at Jabiru seemed to be half empty.